Nobody likes cleaning, but everybody loves a clean home. A warm towel rack makes daily cleaning a little easier.
Where do all the dust, stains and breadcrumbs come from, all the time? No matter how tidy you try to be, you need to wipe different surfaces many times a day. Unfortunately, a heated towel rail will not do this for you – but it does make your everyday life a little easier. Where can you place a moist cloth after dusting and cleaning a table surface? You rinse it under running water, wring it dry, and then what? On the radiator in the living room or kitchen? Not many of us choose cleaning cloths to match the colours in our living rooms to make them part of the interior design when we dry them. A towel warmer installed in a utility room or bathroom helps you to dry your cleaning cloths quickly and tidily. Of course, they will still be in sight, but they will dry very quickly on a warm drying rack, suspended from hooks or horizontal bars. Then you can put them away inside a cupboard.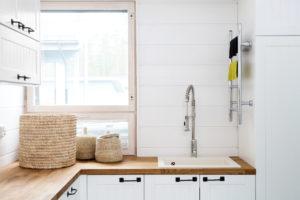 Floor mops, cloths and squeegees are often thick and hard to dry. When moist, they easily gather bacteria and start to smell. After washing, they can be dried suspended from hooks attached to a towel warmer or placed on an optional shelf. If your bathroom is small and the shelves get in the way, you can store the shelves suspended from the drying rack, or you can place the accessories in a cupboard when you are not using them.
You can also place a drying rack directly in your cleaning cupboard. There, you can easily dry and store your cleaning equipment for the next use, out of sight.
Smaller apartments, especially older ones, do not always have separate cleaning cupboards or laundry rooms. An electric towel warmer in a small bathroom can also act as a substitute for a cleaning cupboard or even a clothes line. Hang an attractive cloth bag from the horizontal bar or hook of your drying rack. You can use it to store different cleaning and laundry accessories, such as clean and dry cloths, laundry bags and clothes pegs. You can place a nice little basket on a shelf attached to the top of the drying rack or you can use the rails of the shelf to hang your hand washed laundry or other textiles to dry in a compact way. These little ideas are fun solutions that make a small bathroom more attractive and practical. An electric towel warmer can also be installed in a rented apartment with the lessor's permission. When you move out, you can take it with you and use it in your new home, just like any other movable piece of furniture. The price is reasonable, but the applications are multiple.