Parents of children with many hobbies need all the help they can get. This can also come in the form of a towel warmer.
Head to the supermarket after a day at the office, get home, and then take your children to football or hockey practice. Check you've got everything you need, put your exercise gear in a bag and go. While your children are practising, you work out at the gym. After a couple of hours, you get back home and start cooking. At the same time, you should be dealing with your sweaty sports gear. What do you do?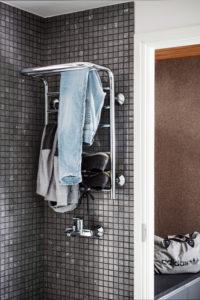 A handy and well-equipped towel warmer of a sufficient size helps you in these situations. Sweaty gear is often left in the bag to wait for washing. Next day, you notice that there is a dried-up bundle at the bottom of your bag. This has happened before, right? As simple an item as a warm towel rail easily takes care of all these preparations. Throw your clothes on the horizontal bars and place your football or ice hockey gear and boots on shelves or suspend them from hooks. There is no reason to worry, even if they are still there the next day. They dry on their own until you have time to put them in the washing machine. It's easy to take clothes from the drying rack and put them into the washing machine, and dry shoes and gear can easily be placed inside a cupboard to wait for next time.
A drying rack has many good places in a home. In addition to a bathroom, it can be installed in a hall, utility or laundry room, vestibule or even a cleaning cupboard. Detached houses often have insulated outdoor sheds where a drying rack has various uses. It is well worth the effort to think of various heated drying rack choices and their placement already at the building or renovation stage of a building or a room. With proper planning, technicalities such as water pipes and power cords can be hidden. An electric drying rack wih a plug-in connection and 130 cm power cord can also be placed and fitted later with a few screws if you can find a good place for it close to an electric socket.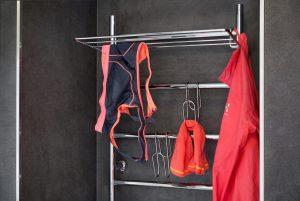 REJ Design heated drying racks come in many sizes – select the right one for your specific needs from our range. The tall, narrow Tango is ideal for smaller bathrooms, for example, by the door. It has many horizontal bars, from which you can suspend hooks and shelves. These accessories come in handy if you need to dry sports gear or smaller items. You can also install several towel warmers in washrooms, especially if they have many users. The fun, cute Domo or the low Tango can be mounted, for example, above a washing machine. As a result, you can easily hang smaller items directly from the washing machine, shirts from hangers and underwear on horizontal bars. Our accessories easily offer more drying space. You can even dry sheets on the horizontal bars of a removable shelf using clothespins. A stylish towel warmer is a small and compact helper. It is easy to install and effortless to use, while significantly improving your comfort.