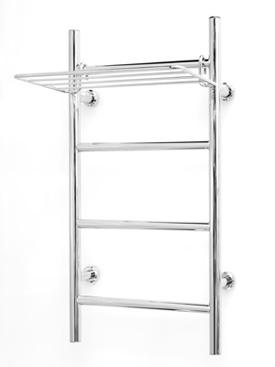 Movable optional shelf for REJ Design drying racks, made in Finland. Chrome-plated.
HVAC code PIVO 35 chrome: 5488259
Accessories ordered together with a towel dryer painted white or in a special RAL colour can be delivered in a tone identical to that of the towel dryer.
PIVO HYL 35 is suitable for REJ Design Tango BTH/EH 35744, BTH 35744 top, BTH/EH 35130/BTH 35130 top and Tango BTH 351310 drying racks.
Outer dimensions of the PIVO HYL 35 accessory: depth 25 cm × width 38 cm.
By using accessories, you can expand the dryer capacity and applications. The Pivo shelf can also be used to store dry towels, to dry more delicate textiles on hangers or as an additional drying rack.
It also helps you to dry shoes, gloves and caps.